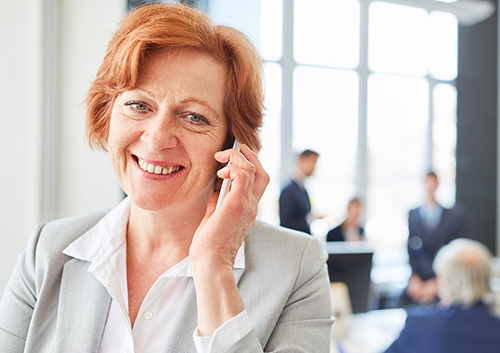 If you have lost a tooth or teeth, dental implants can restore your smile. Implants look natural, don't impact the healthy teeth around them, and protect the underlying bone from the bone loss that can be caused by a missing tooth.
One important prerequisite for a successful implant: the bone in the jaw that will hold the implant must be healthy, and must be the appropriate size and strength to allow osseointegration (the fusion of the implant with the jawbone) to take place. If the bone isn't wide enough, high enough, or dense enough, the success of the implant will be in jeopardy.
An implant, unlike a denture or a bridge, is rooted in the jaw much like your tooth. A cylinder is implanted in the bone, and will later hold the abutment which attaches to the final crown. Because a great deal of pressure is placed on our teeth with everyday functions such as chewing, the bone must be strong enough to successfully fuse with the implant.
Fortunately, Dr. Jenny A. Kanganis can actually restore the density and shape of your jawbone if the bone isn't suitable for an implant. This reconstruction is accomplished with bone grafting.
Why Would You Need a Bone Graft?
The bone structure which supports our teeth can be compromised in a number of ways. We might recommend a bone graft if you have insufficient bone due to causes such as:
Bone Loss Caused by Tooth Loss
The bone tissue which supports our teeth needs the stimulation of biting and chewing to stay healthy. Without that stimulation, the bone area under the missing tooth gradually shrinks. The bone tissue is resorbed into the body, which, in a relatively short amount of time, can lead to a noticeable sunken spot where the tooth used to be. Bone grafting will rebuild this area—and a dental implant will provide the tissue stimulation that a natural tooth would, helping to prevent future bone loss in the jaw.
As gum disease progresses, the gums pull away from the teeth, leaving the bone and connective tissue exposed to infection and bacteria. Infection and the body's own response to bacteria can cause deterioration in the bone structure supporting the teeth. Bone loss cannot be reversed, but a graft can replace lost bone and allow healthy tissue to regenerate.
Pre-existing Bone Conditions or Traumatic Injuries
In the case of bone structure that is naturally less thick or dense, or bone which has been damaged by accident or injury, a bone graft can provide a solid basis for an implant.
What Takes Place in a Bone Grafting Procedure?
Bone grafting is a type of oral surgery. Bone tissue for grafting may be taken from your own body, or a graft material composed of safe and sterile donor tissue or synthetic substitutes can be used. This second kind of graft will be absorbed gradually by the body as your own new, healthy bone tissue replaces it.
If you decide a bone graft is your best option, we will discuss the options for grafting with you during your appointment at our Bronxville office, and use imaging to map out the area of bone loss and to create the best individual treatment plan for you.
After anesthesia, an incision will be made in the gum tissue to reveal the damaged bone. Grafting material will be shaped and secured to the affected area, and sutures are generally used to close the incision. We will give you careful instructions for after care and follow-up visits. The time it takes for you to heal completely will depend on the type and size of the graft.
We recommend bone graft surgery when it will provide the best, most successful foundation for your dental implant procedure. Oral surgeons have years of medical and surgical training in the complex relationship and interaction of bone, muscle, and nerve. We are uniquely qualified to provide a skillful, safe, and effective bone grafting procedure.
When you choose an implant, one of your primary goals is the aesthetic restoration of your smile. Just as important, you are also making sure that the bones supporting your teeth will remain heathy and strong. Talk to us about bone grafting, and how we can start you on your way to a lifetime of beautiful smiles.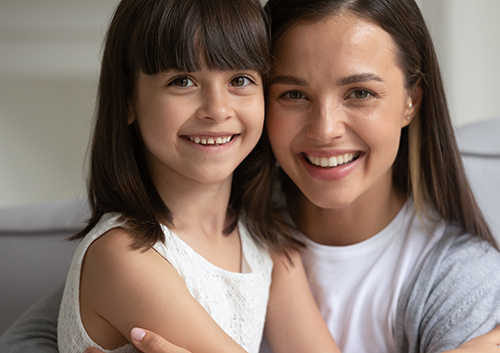 You're parents, so you worry. It comes with the job description! That's why you make regular appointments with your children's doctors and dentists for preventive care and examinations. That's why you make sure your kids wear mouth guards and other protective gear when playing sports. And that's why you want to know all about the X-rays that are used when your children need dental treatment.
First of all, it's reassuring to know that the amount of radiation we are exposed to from a single dental X-ray is very small. A set of bitewing X-rays, for example, exposes us to an amount of radiation that is approximately the same as the amount of radiation we receive from our natural surroundings in a single day.
Even so, doctors are especially careful when children need X-rays, because their bodies are still growing and their cells are developing more rapidly than adults. And children often have different oral and dental needs than adults, which can require different types of imaging.
In addition to the usual X-rays that are taken to discover cavities, fractures, or other problems, young patients might need X-rays from their dentists or orthodontists:
To confirm that their teeth and jaws are developing properly.
To make sure, as permanent teeth come in, that baby teeth aren't interfering with the arrival and position of adult teeth, and that there's enough space in the jaw to accommodate them.
To plan orthodontic treatment.
And if your child has any dental or medical conditions that can best be treated by an oral surgeon, diagnostic X-rays might be needed. Dental X-rays are used, for example, in order to:
Check the progress and placement of wisdom teeth before they are extracted.
Locate fractures, breaks, or other damage to the teeth and jaws after an accident or injury.
Discover and treat damage or infection which recurs after root canal work.
Diagnose and plan treatment for conditions which might require corrective jaw surgery.
Facilitate the placement of dental implants when children have lost or missing teeth. Because young jaws are still growing, this placement requires special care.
So, how do oral surgeons and radiologists make sure your child's radiation exposure during any X-ray procedure is as minimal as possible?
Radiologists, the physicians who specialize in imaging procedures and diagnoses, recommend that all dentists and doctors follow the safety principal known as ALARA: "As Low As Reasonably Achievable." This means using the lowest X-ray exposure necessary to achieve precise diagnostic results for all dental and medical patients.
Moreover, radiologists are devoted to raising awareness about the latest advances in imaging safety not only for dental and medical practitioners, but for the public, as well. With children in mind, pediatric radiologists from a number of professional associations have joined together to create the Image Gently Alliance, offering specific guidelines for the specific needs of young patients.
And because we are always concerned about the safety of our patients, medical and dental associations around the world, including the American Association of Oral and Maxillofacial Surgeons, the Academy of Pediatric Dentistry, the American Dental Association, the American Dental Hygienists' Association, the Canadian Academy of Pediatric Dentistry, and the Canadian Dental Hygienists Association, are Image Gently Alliance member organizations.
The guidelines recommended for X-rays and other imaging for young people have been designed to make sure all children have the safest experience possible whenever they visit the dentist or the doctor. As oral surgical specialists, Dr. Jenny A. Kanganis and our team work to restore children's smiles through many different procedures, and we ensure that imaging is safe and effective in a number of ways:
We take X-rays only when they are necessary.
We provide protective gear, such as apron shields and thyroid collars, whenever needed.
We make use of modern X-ray equipment, for both traditional X-rays and digital X-rays, which exposes patients to a lower amount of radiation than ever before.
We set exposure times based on each child's size and age, using the fastest film or digital image receptors.
We know your child's health and safety are always on your mind, so you're proactive about medical and dental care. And your child's health and safety are always on our minds, too, so we're proactive when it comes to all of our medical and dental procedures.
Please free to talk with our Bronxville team about X-rays and any other imaging we recommend for your child. We want to put your mind at ease, knowing that X-rays will be taken only when necessary, will be geared to your child's age and weight, and will be used with protective equipment in place. Because ensuring your child's health and safety? That comes with our job description!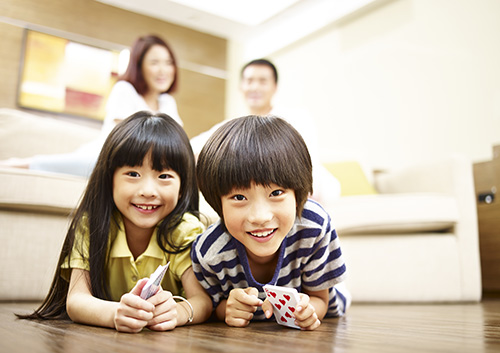 Many parents have concerns about their children's teeth not falling out on time. Dr. Jenny A. Kanganis and our team are here to answer any questions parents may have about when children lose their teeth.
Children have 20 primary teeth that come in around age three. By about age six, these teeth will loosen and begin to fall out on their own to make room for the permanent ones. It is common for girls to lose their baby teeth earlier than boys. Most children lose their final baby tooth by age 13.
Baby teeth normally fall out in the order in which they came in. The lower center incisors are usually the first to fall, around age six or seven, followed by the upper central incisors.
If a child loses a tooth to decay or an accident, the permanent tooth may come in too early and take a crooked position due to teeth crowding. If your child loses a tooth to decay or accident, call Dr. Jenny A. Kanganis to make an appointment.
Some kids can't wait for their baby teeth to fall out, while others dread the thought of losing a tooth. When your child begins to lose teeth, you should emphasize the importance of proper dental care on a daily basis to promote a healthy mouth.
Remember to:
Remind your child to brush his or her teeth at least twice a day and offer assistance if needed
Help your child floss at bedtime
Limit eating and drinking between meals and at bedtime, especially sugary treats and drinks
Schedule regular dental visits for your child every six months.
Ask about the use of fluoride treatments and dental sealants to help prevent tooth decay.
Call Bronxville Dental Care to learn more about caring for baby teeth or to schedule an appointment at our Bronxville office!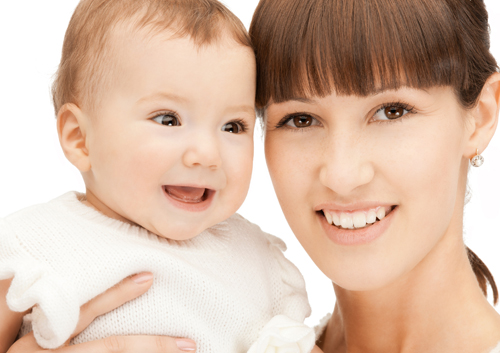 Your infant's first teeth will begin to appear around six to 12 months of age. You might wonder how important these primary teeth really are. After all, baby teeth are destined to fall out within a few years and be replaced by a full set of permanent teeth. However, baby teeth have important functions, and proper care can set the stage for excellent oral and overall health.
Promote Better Nutrition
The appearance of your baby's primary teeth around six to 12 months of age coincides with changes in your infant's nutritional needs. Beginning at six months, exclusive breastfeeding is no longer nutritionally sufficient; this is the age at which you should introduce solid foods.
At six to eight months, when your baby can start to chew, strained or pureed fruits and vegetables are appropriate. As your little one's teeth grow in and chewing abilities progress through 12 months of age, you can gradually add cereal, bread, cooked meats, and other adult foods to his or her nutritious diet.
Increase the Life Expectancy of Baby Teeth
Although baby teeth are inevitably going to fall out and be replaced by permanent ones, making baby teeth last serves an important role that can have benefits into the future. Baby teeth serve as placeholders for permanent teeth. If they decay and fall out too soon, permanent teeth are more likely to grow in crooked.
How to Take Care of Baby Teeth
Your baby's primary teeth are already in his or her mouth at birth; they are just invisible because they have not broken through the gums. Since they are already present, your baby can get cavities if you do not practice proper oral hygiene from the beginning.
Do not let your baby fall asleep with a bottle in his or her mouth.
Brush your child's baby teeth twice a day as soon as they come in.
Floss your child's teeth as soon as he or she has two teeth that touch.
Visit Bronxville Dental Care for your baby's first checkup when the first tooth arrives.