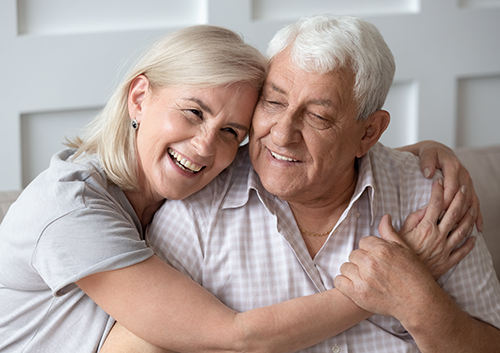 There are many understandable reasons why you might be feeling less than enthusiastic about your upcoming implant procedure, extraction, or any other dental surgery. Perhaps anxiety is an issue, or your teeth are extremely sensitive. You may have a low pain threshold, an easily triggered gag reflex, or require longer or more complex work during your visit. These are also excellent reasons to consider sedation dentistry.
Of course, Dr. Jenny A. Kanganis will always try our best to make sure that every procedure is pain free. A local anesthetic will be provided to numb the surgical area completely. You might decide that this all that you need, especially for relatively simple procedures. But if you would prefer to remain completely aware, but feel less anxious, if you would like deep sedation throughout the entire procedure, or if you want something in between, talk to us about making sedation part of your treatment.
The most common methods of sedation include:
Usually, oral medications that reduce anxiety are given in pill form. The level of sedation and how much you will be aware during your procedure will depend on the dosage, and you will need time to recover from the drug's effects after we are done.
Commonly referred to as "laughing gas," this has been used since the 1800's to relieve dental anxiety and reduce pain. Today's equipment is designed to provide a precise mixture of nitrous oxide and oxygen inhaled through a mask that you will wear throughout the procedure. Once the mask is removed, you will recover quickly.
Medication will be delivered through an intravenous line placed in a vein. This delivery system allows the sedative to take effect very quickly, unlike oral sedation, and adjustments to the sedation level can be made throughout the procedure. This method will also require recovery time when your work is complete.
Because your concerns and condition are unique, we will tailor your sedation to fit your specific needs, and our experience and training enable us to recommend the sedation that is best for you. We will take a careful health history to make sure that whichever medication is used won't interact with your other medications or affect any pre-existing medical conditions.
Oral and maxillofacial surgeons are trained in a hospital-based residency program to administer and monitor every type of sedation. Because sedation in all its varieties is a regular part of our practice, we have the medical knowledge and skill to provide you with a safe and comfortable surgical experience. If you think sedation dentistry might be right for you, this procedure is something we are happy to discuss before your appointment at our Bronxville office.
If you suffer from sensitive teeth, you already know the frustration of having a type of pain that is hard to deal with. Because tooth sensitivity is sometimes unpredictable, you can't necessarily take medication to ward off the pain like you could if you just felt a headache coming on.
However, there is still something you can do about sensitive teeth. Use the following tips to help put your sensitivity and pain problems with your teeth behind you!
Use the Right Toothbrush: Select a toothbrush made just for sensitive teeth, or the softest bristles possible. This helps you avoid putting any extra pressure on your teeth or gums.
Choose a Special Toothpaste: There are several good options for toothpastes made just for sensitive teeth today. Usually, toothpaste formulated for sensitive teeth will be fluoridated and use a non-abrasive formula. The toothpaste will help with the pain usually associated with brushing and flossing if you use it regularly.
Avoid Trigger Foods: You may have noticed certain trigger foods that cause tooth sensitivity and pain for you. Avoid these foods whenever possible, and if you absolutely must eat them, try to consume them in very small quantities. Trigger foods may include:
Foods with high acid content for example citrus fruits
Very hot or very cold foods
Hard or crunchy foods
Visit Our Office
If your sensitive teeth problem is too serious to manage on your own, a visit to our Bronxville office may be in order. There are a couple of ways Dr. Jenny A. Kanganis can help:
Fluoride Treatments: We can put a special fluoride formula on the most sensitive areas to help make your enamel stronger and to help lower pain levels.
Sealing Exposed Roots:In some cases, your roots become exposed due to a receding gumline, which in turn causes teeth sensitivity and pain. We can apply a dental sealant that protects the exposed roots and reduces your pain dramatically.
You have done a lot of work to get the perfect smile. You wore your Invisalign aligner trays and cared for your teeth, and now your treatment is done. You still need to take care of your teeth to keep your beautiful smile. Keeps these things in mind when you think about your oral care routine.
Retainers
Many patients do require a retainer after Invisalign treatment. This will be based on your unique situation. If a retainer is recommended by Dr. Jenny A. Kanganis, use it as directed. Retainers prevent your teeth from shifting back into their original position. You should also avoid hard, crunchy foods for the first couple of weeks as your teeth adjust. For younger patients, retainers are normally used until the wisdom teeth come in or are extracted.
Brushing and Flossing
Brushing and flossing must be part of your daily oral care. Flossing helps remove the plaque, which becomes tartar or calculus. This build up can lead to gingivitis and gum disease. Your gums may be more sensitive for a week or two after your orthodontic work is completed. A warm salt water rinse may relieve discomfort.
Your teeth may be slightly sensitive for a short time. They have been protected by your Invisalign aligner trays and now are fully exposed. You might want to try a sensitive toothpaste to get through the transition. Just ask; we will be glad to recommend the best type for your needs. If your teeth are stained, a professional whitening treatment can be considered.
Regular Dental Checkups
You still need to have regular dental exams. Professional cleanings and X-rays make sure that both your teeth and gums stay healthy so you can keep your teeth for life. If cavities or other problems are found, they can be taken care of quickly.
If you have any questions about how to care for your teeth after your Invisalign program, please ask our Bronxville team. We want you to keep your healthy smile and enjoy the results of your Invisalign treatment.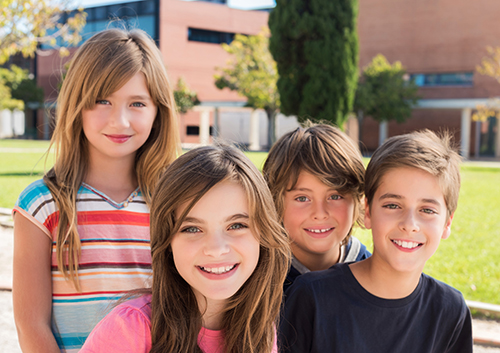 It's a busy time of year. Book lists! Supplies! New clothes! (How did they outgrow those shoes already?) And while you're preparing your family's list of back-to-school necessities, here are a few essential reminders to help your child begin the school year with a healthy smile.
It never hurts to review the basics before the start of the school year, and that holds true for dental care as well! Make sure your child is brushing two minutes twice a day, and using floss or another interdental tool to clean between the teeth. If his toothbrush has been in use since the end of the last school year, it's probably time to replace it. Bristles are at their best for about three months—after that, they become frayed and worn, and can't remove plaque as effectively.
School Supplies for Braces Wearers
If your child is going to school with braces for the first time, send her off with the tools she needs. A travel-sized toothbrush and tube of toothpaste are perfect for a quick brushing after lunch, while dental floss and a threader or dental picks will take care of any after-lunch particles lurking in brackets and wires. Orthodontic wax is a great product to have on hand if a wire or bracket is causing irritation. If your child uses clear aligners or a retainer, make sure a protective case is always close by, ready to use every time the appliance is removed. And it's a good idea to include the number of your dentist and orthodontist in her contacts in case of emergency.
If your school requires a dental exam before the start of classes, be sure to make your appointment at our Bronxville office now! Regular checkups with Dr. Jenny A. Kanganis are vital for preventing small problems from becoming bigger ones, and a professional cleaning will remove the plaque even careful brushing can miss.
A positive, confident start can set the tone for the academic year, so your homework might include monitoring summer reading, providing required supplies, and making sure your child is well-rested and ready to go. You can also help your child to a positive, confident start by monitoring brushing habits, providing the necessary tools for appliance-wearers, and making sure your child is up-to-date with dental exams and cleanings. Because entering the classroom with a beaming, healthy smile—that's an A+ way to begin the school year!