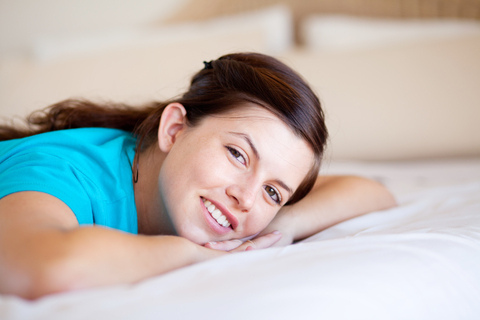 Dr. Loretta Rubenstein and our team are excited to offer Invisalign Teen, a clear alternative to braces that's just for teens! With Invisalign Teen, we are able to straighten your teen's teeth without the hassle, discomfort, and embarrassment of traditional braces.
Invisalign Teen's clear aligners are virtually invisible. What's more, they are removable, which means your child is free to eat anything they choose, as well as brush and floss with ease! And best of all, Invisalign Teen uses no wires or metal to straighten your teen's teeth.
Invisalign Teen aligners are made from a lightweight plastic material and fit precisely on the teeth. Invisalign Teen has become a popular treatment here at Oceans of Smiles Orthodontics because it helps our younger patients achieve a straight, beautiful smile without their friends noticing.
Our team at Oceans of Smiles Orthodontics is aware that most teens today have a busy lifestyle, and sometimes, they tend to lose things, including their retainers or aligners. But with Invisalign Teen, if your child happens to lose an aligner, let Dr. Loretta Rubenstein and our team know as soon as possible and we will have the aligner replaced.
For more information on Invisalign Teen, please give us a call at our convenient Newport News and Gloucester, VA office today!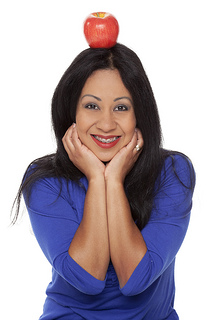 While braces play an important part in helping to create a healthy mouth and teeth, you might experience a few side effects while wearing them that are common and can be easily treated.
Even with the best of care, braces can cause soreness to your mouth. As your teeth begin to move, it is natural for your teeth to feel aches and your jaw to develop soreness.
If there are broken wires or loose bands on your braces, a sore tongue, mouth, or canker sore will occur. Canker sores are a common occurrence when braces rub inside the mouth. There are ointments available to reduce the pain and irritation associated with mouth sores. We urge those who experience a sore mouth or any of the following problems to call our office to schedule an appointment.
Loose brackets: Apply a small amount of orthodontic wax to the bracket temporarily. You might also apply a little between the braces and the soft tissue of your mouth.
Loose bands: These must be secured in place by your orthodontist. Try to save the band for repair.
Protruding or broken wires: The eraser end of a pencil can be used to move the wire carefully to a less painful spot. If you are unable to move it, apply orthodontic wax to the tip. If a mouth sore develops, rinse with warm salt water or antiseptic rinse.
Loose spacers: These will need to be repositioned and sometimes replaced.
Foods to Avoid
Some foods can also help or hurt you while you're wearing braces. Remember to cut your food into small pieces that can be easily chewed. You will want to avoid hard and chewy foods that can break your hardware. Foods such as corn on the cob, nuts, carrots, apples, ice, and bubble gum should be avoided.
Braces, rubber bands, springs, and other mouth appliances associated with braces will normally attract food particles and plaque. Without the proper care, this could cause staining of your teeth.
Our staff at Oceans of Smiles Orthodontics recommends brushing after every meal or snack and carefully removing any food that might be lodged in the braces. A fluoride mouthwash might be helpful as well as flossing. At your next appointment, Dr. Loretta Rubenstein can advise you how to floss with a brush specially designed for braces!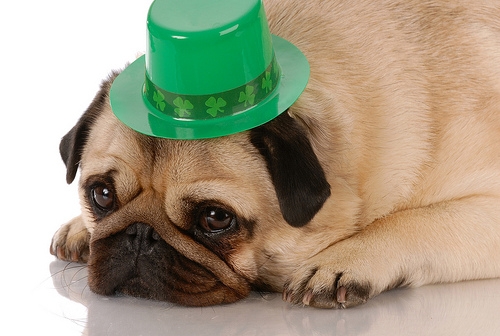 On March 17, everyone has a little Irish in them. St. Patrick's Day is a joyous celebration of Irish heritage. The holiday originated as a commemoration of Saint Patrick, who brought Christianity to Ireland. The saint arrived in Ireland in 432 and earned the reputation of a champion of Irish Christianity. March 17th, the day of St. Patrick's death, has been commemorated by the Irish for over 1,000 years. St. Patrick's Day is still observed as a religious feast day by several Christian denominations, but it is better known in the public imagination as a rich celebration of Irish culture.
St. Patrick's Day has been an official public holiday in Ireland since 1903. Each year, the Irish celebrate with a several-day festival that includes theater performances, music, fireworks, and festive parades. The celebration is also a public holiday in Northern Ireland, Montserrat, and Newfoundland and Labrador. In other parts of the world with heavy Irish populations, it is an unofficial celebration of Irish heritage. Parts of Great Britain, Canada, Argentina, South Korea, Switzerland, New Zealand, the United States, and Australia commemorate the holiday each year. Typical celebrations in these countries include drinking green beer, wearing green, eating traditional Irish foods, parades, and shamrock decorations.
Many people, Irish and non-Irish alike, take part in the "wearing of the green" on St. Patrick's Day. In fact, the color originally associated with Saint Patrick was blue. His use of shamrocks to explain the Holy Trinity to the Irish made the green clover emblematic of the holiday, leading to the traditional green attire worn by thousands on St. Patrick's Day. Other little-known facts about St. Patrick's Day include the following:
Each year, the United States and Ireland face off in a rugby competition called the "St. Patrick's Day Test."
Montreal celebrates the holiday with an annual parade, which has been held each year since 1824. The Montreal city flag even features a shamrock in its corner, as a nod to its Irish heritage.
The Guinness World Records named St. Patrick's Day the "Friendliest Day of the Year."
Along with Valentine's Day, St. Patrick's Day is one of the most widely celebrated saint's day in the world.
No matter your cultural heritage, St. Patrick's Day is a great time to let loose and celebrate your inner Irish-ness! Don your greenest attire and exclaim "Erin go Bragh!" (Ireland forever!) to everyone you meet. From Dr. Loretta Rubenstein – have a great St. Paddy's day!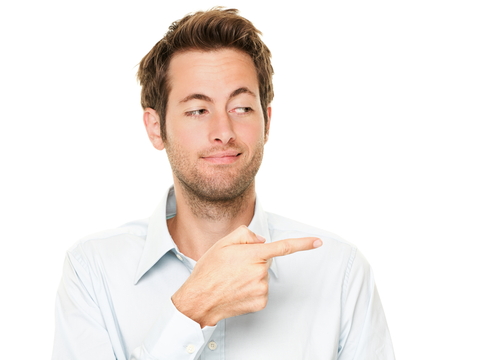 Adult patients who seek orthodontic treatment usually fall into one of two camps: those who did not undergo orthodontic treatment as a child or those who had braces at one point but stopped wearing retainers for one reason or another.
At Oceans of Smiles Orthodontics, we are happy to offer a variety of treatment options to straighten our patients' teeth. Dr. Loretta Rubenstein and our team believe you're never too old to straighten your teeth. And we have many adult patients who are currently undergoing treatment. In fact, did you know that roughly 30 percent of all orthodontic patients these days are adults?
Invisalign® is a great treatment option for adults. The Invisalign aligners are easy to wear and are not visible to most people. Plus, Invisalign's clear aligners are removable, so there are no restrictions on what you can eat during treatment. When considering Invisalign, we tell adults to determine if they can be diligent about wearing the aligners at all times and make them part of their lifestyle for the duration of treatment.
If you have been thinking about obtaining a beautiful smile, please give us a call at our convenient Newport News and Gloucester, VA office for an initial consultation. Dr. Loretta Rubenstein and our team welcome children, teens, and adults alike. Call us today for an appointment!